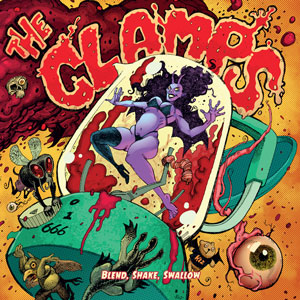 Genre: Speed Rock / Stoner / Punk
Release Date: February 2017
Types: LP / Digipack / Digital
Cat: HPS047
The Clamps is three-piece speed-stoner rock n' roll band formed in Bergamo, northern Italy, in 2012. Made up by former members of local punk, metal and alternative rock bands, the Clamps started to hit the road few months later for plenty of shows in Italy and Europe, where they shared the stage with bands such as The Sewergrooves, Nashville pussy, Pontiac, Valient Thorr ,Wild Eyes, Valley of the sun, Black Tusk, and more. The Clamps squeeze stoner, speedrock, punk and rock n'roll into a a well-recognizable no-frills fat fuzzy sound, and their shows are pure energy! The debut album DEADLY KICK FOR A FAT FUCKER was released in 2013 for GO DOWN RECORDS. The second album BLEND, SHAKE, SWALLOW is out in February 2017 for HEAVY PSYCH SOUNDS RECORDS.